How Behavioral Wellness Group Works
The Behavioral Wellness Group (BWG) is a private, outpatient practice that offers virtual and office psychotherapy and behavioral health services to individuals, couples, families and groups. We provide tailored therapy along with substance abuse evaluations and treatment, psychiatric medication management, psychological and educational testing, pre-surgical and bariatric assessments, geropsychiatric assessments and memory testing.
Get help for your specific condition
Find the right clinician match for you
Book an in-person or online appointment
We help people living with a variety of mental health conditions.
Pain, Medical & Emotional Conditions
Child & Adolescent Services
Intensive Outpatient Programs (IOP)
Dual Diagnosis & Addiction Recovery (Ohio only)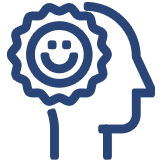 Psychiatry & Medication Management
"I will continue to tell all my friends, family, healthcare providers, co-workers and strangers how amazing this entire group is."
"No matter what issue I ran in to, you were always there for me to help find a solution."
"You are sincerely caring, considerate and empathetic to all of our issues and concerns."
"Thank you for saving me and making me realize no problem is permanent. No words will ever be enough to thank all of the wonderful people I have been blessed with..."
"BWG, collectively, is led by qualified, competent, and dedicated members."